Current Homes & Land For Sale with Marr Property Management Group, LLC
For more detailed information on any of the listings below, please call our office at 570-245-6373 and ask to speak to a Realtor.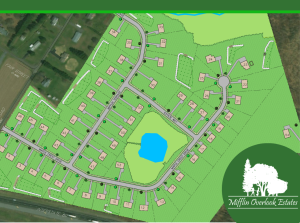 Land for Sale
Mifflin Overlook Estates
Located in a beautiful country setting, Mifflin Overlook Estates is a rural 54 parcel subdivision of single family homes, located on the outskirts of Mifflinville, PA.  This newly developed community boasts picturesque views while the design details encourage residents to spend time outdoors.  Our location offers easy access to Route 80 and the excellent Central Columbia School District.
The natural features of the community include a wooded pond and a forest buffered stream. In addition, a number of above ground water quality and detention ponds with wetland plantings have been added to the development design.  Lots average 1/2 to 3+ acres, with stream front lots available.  All lots are mostly level.  Each individual property will be served by public water and sewer, and driveways will connect to new public roads.  Curbing lines the streets through the community, with sidewalks and lightposts for easy walking and safety.
The following lots are listed for sale on the MLS through MPMG:
Lot 20: 74 Maple Crest Drive, 0.552 Acres
Lot 22: 80 Maple Crest Drive, 1.047 Acres
Lot 27: 21 Estate Way, 0.51 Acres
Lot 28: 17 Estate Way, 0.495 Acres
Lot 30: 29 Mifflin Terrace, 1.287 Acres
Lot 32: 21 Mifflin Terrace, 1.351 Acres
Lot 33: 19 Mifflin Terrace, 2.735 Acre
Lot 34: 14 Mifflin Terrace, 0.489 Acres
Lot 35: 22 Mifflin Terrace, 0.646 Acres
Lot 36: 30 Mifflin Terrace, 0.784 Acres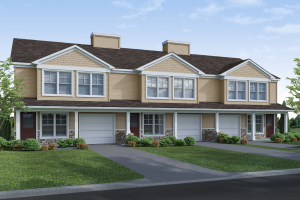 New Construction Townhomes in Hazleton
Nicole Lane, Hazleton, PA 18202
3 Bed/2.5 Bath/1,547 SqFt/1-Car Garage
Three Townhomes are available.
MLS# 20-93981 – UNDER CONTRACT
MLS# 20-93983
MLS# 20-93992